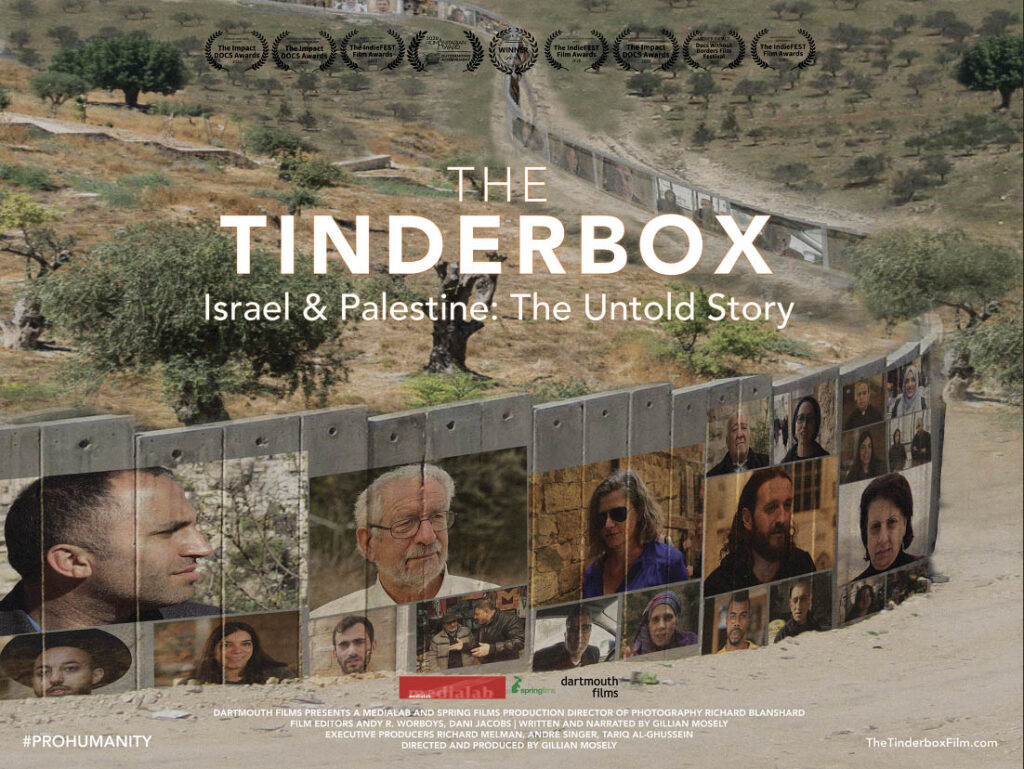 Thoroughly researched and scrupulously balanced, this documentary… is sober, thought-provoking stuff – The Observer, Wendy Ide
Gillian Mosely's thoughtful movie about Israel/Palestine raises important issues and (is) a valuable contribution to the debate – The Guardian, Peter Bradshaw
For VOD outside of broadcast territories below please go to:
FOR EDUCATIONAL MATERIALS OR IF YOU WOULD LIKE TO ORGANISE A LOCAL OR EDUCATIONAL SCREENING OF THE TINDERBOX PLEASE EMAIL US AT:
For details of international broadcasts of The Tinderbox please scroll down
THE TINDERBOX: understanding Israel/Palestine
We will never find peace unless we address the basic problem
A rare and thought-provoking examination of both sides of the Israeli-Palestinian conflict, from its catalyst to why it still rages, to what needs to happen for it to stop.
The Tinderbox combines ancient and more recent history, geopolitical problems (racism, inequality, immigration and fake truths), and psychology, with the deeply personal journey of one person forced to challenge everything they'd been taught about the conflict in Israel and Palestine.
The film also shows the human face of this conflict by hearing from a wide variety of contemporary voices, ranging from a Settler to a political member of Hamas. Today, while this conflict still rages, an American Middle East Peace Plan is in the works, and anti-Semitism and Islamophobia remain as globally controversial as ever, this film will provide context, show how history continues to play out in the daily lives of people on either side of the divide, and will empower audiences to make up their own minds.
Please email us if you have any questions at thetinderboxfilm@gmail.com.
International Broadcasters
Canal +, Poland
ERT-SA, Greece
HRT, Croatia
MBC Al Arabya, Saudi Arabia
RSI, Swiss-Italian
RTHK, Hong Kong
RTV, Slovenia
RUV, Iceland