SHOOT 1
VOX POP 1: ADI

When we arrived in Tel Aviv it was cold and rainy. I wanted to talk to someone from the Druze community and rather than go to a Druze village to stop people in the street, my cameraman arranged for us to film Adi, a fellow filmmaker. We were raring to go but by the time we'd arrived in North Tel Aviv where Adi was meeting us on our first shoot day, it had started to hail so we ended up doing our first vox pop inside Adi's car with hail beating down on its hood. Adi's done very well but he lives in a Druze village where some houses do not have electricty and like many Druze who serve in the Israeli army, does not get the same benefits for service as his Jewish compatriots.

VOX POP 2: GILAD

So, it's day 1 of our shoot and pissing down, however we had a brief moment of sunshine as we reached Jaffa. Loitering on a street corner, we were able to stop Gilad and his girlfriend who were visiting from the north. We only managed to persuade him to talk but as we did, he told us about his experience as a student, also having been injured while doing army service (although there was no injury evident). His biggest hope is that his own children will not have to serve in the army.

VOX POP 3
It was still cold and raining and we were in Jaffa desperate for food and shelter. We went into a tiny cafe and asked if anyone would like to be interviewed. After a certain amount of 'he'll do it, no he'll do it,' a boy in his early teens who'd been raised in America, and the cafe owner agreed to talk to us. Both were Palestinian and both felt their rights as Israeli Palestinians needed improvement. Particularly for the young man used to the freedoms of America, lack of equal rights was incomprehensible.
VOX POP 4
We emerged from the train station to meet this gentleman, a Jew from South Africa in the Holy Land for three years to fulfill his obligations as a Jew. He plans to stay for around 3years in total.

VOX POP 5: JACK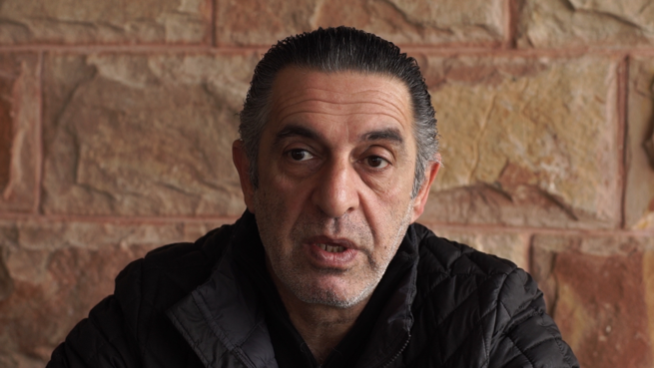 We arrived in Ramallah in more pouring rain – this started out as a very wet shoot. We spotted Jasmine Cafe and decided it was time for lunch. But the rain kept going so we asked them if we could approach some of their customers for vox pops. Jack, the owner, gave us our first vox pop. He runs several restaurants and does business with a lot of Israelis. he keeps these friendships going by not discussing the political situation.

VOX POP 6: FARAH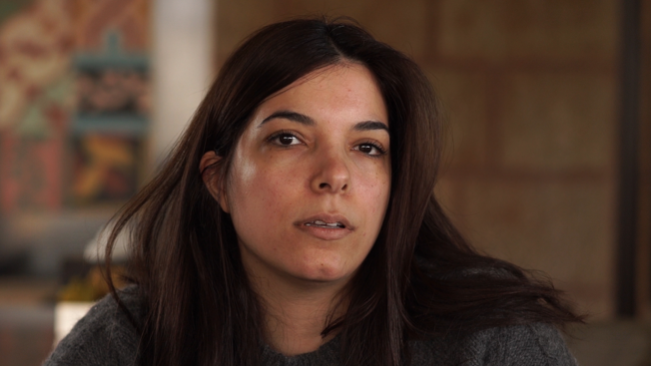 We did two more vox pops at Jasmine Cafe in Ramallah. This one with Farah while it was still raining and there was some very noisy construction across the road. She's a translator with a young daughter and is hopeful that her own experience as a refugee who only returned to Palestine after the Oslo agreement, will not be something her daughter has to live through too.
VOX POP  7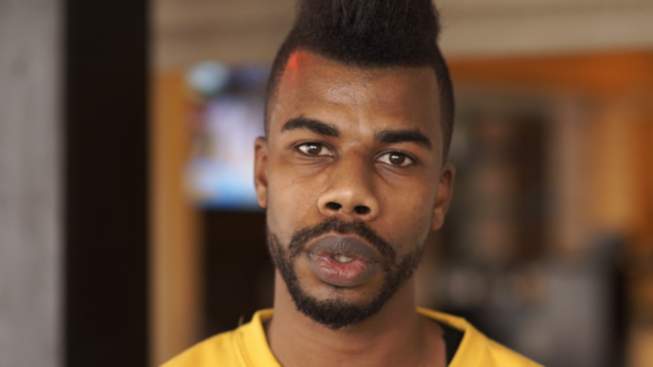 FINAL RAMALLAH VOX POP: yes, still raining at this point and still at Jasmine Cafe. This waiter and uni student just wants peace between Israelis and Palestinians…
VOX POP 8: MAYESE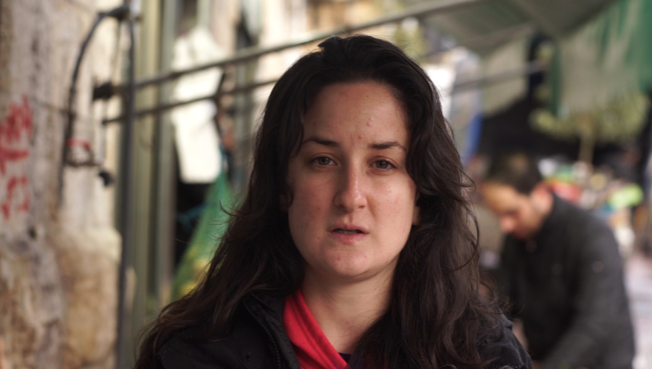 We'd been sheltering at Jasmine Cafe in Ramallah and decided we really better try to meet people outside the cafe so we walked into old Ramallah and were standing under an awning when Mayese walked past us headed into a fruit and veg shop. And this American-educated young professional had plenty to say from her initial shcok at how easy life is in the States compared to Palestine, to her experiences crossing checkpoints…

VOX POP 9: IMAD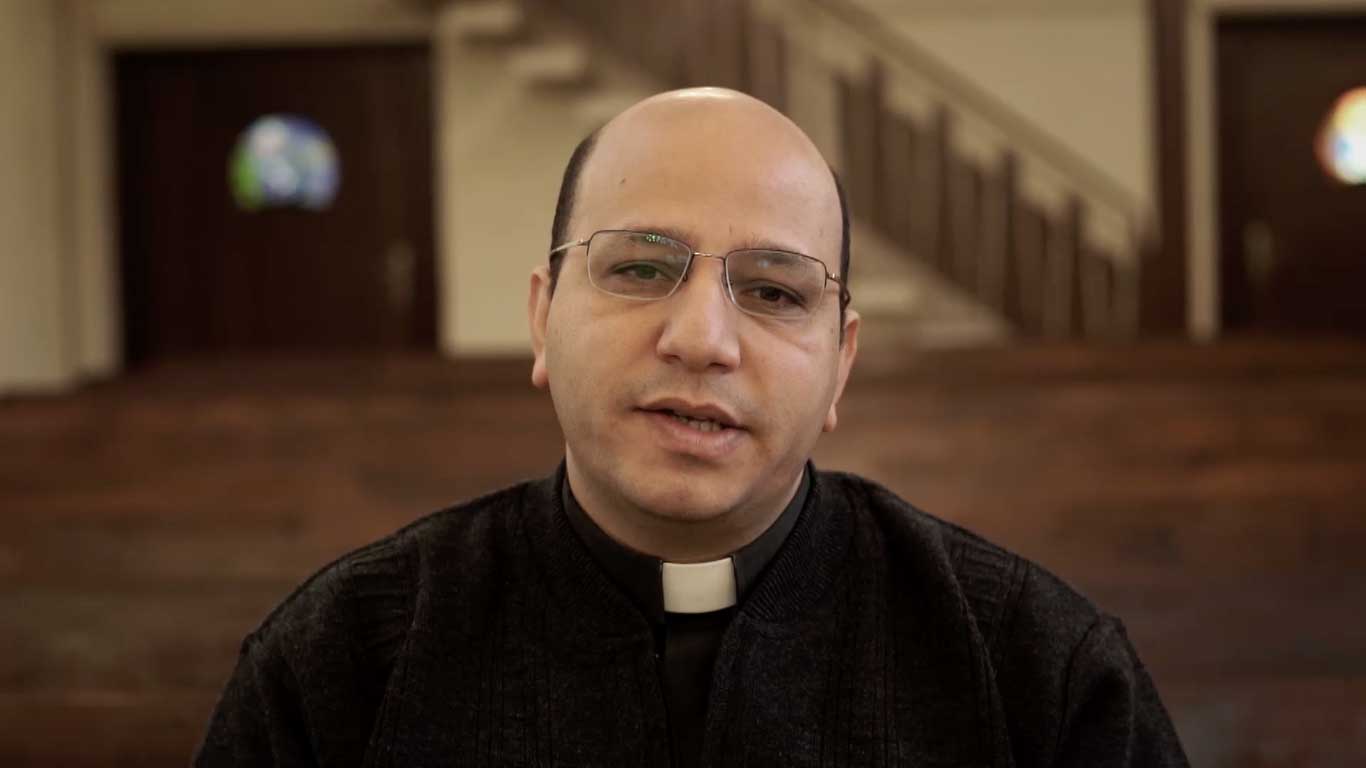 It finally stopped raining and the next day we went to Church in the West Bank to film one of our main characters and Reverend Imad agreed to do a Vox Pop. His succinct recounting of the situation faced by all Palestinians is particularly moving…
VOX POP 10: FARAJ AND DAVID
We went off to film with several of our main characters, only coming back to Vox Pops 5 days in. Thankfully it had stopped raining by then and we headed into the Old City of Jeruslem to find more people to speak to. We met Faraj (Muslim) in his shop on the Via Delarosa with his best friend David (Christian.) In the end Faraj did most of the talking. He worries constantly about the disparity of rights and wonders how anyone thinks that peace is possible when rights are so unequal…

VOX POP 11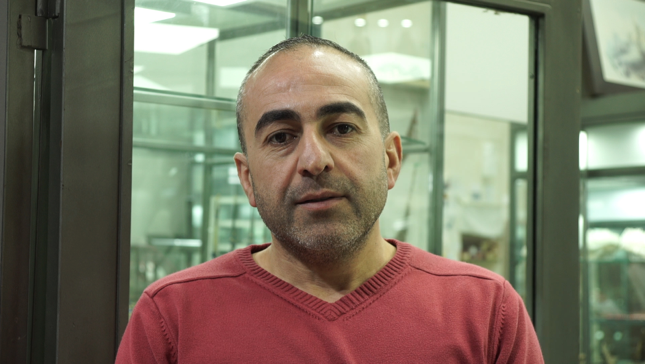 We were still on Via Delarosa with Christian pilgrims walking past us carrying crosses, many of them very large, when we found a jewellery shop owner standing outside his shop. He's a 20th+ generation Palestinian and the shop has also been in the family and he was arguably the most pessimistic of our interviewees – no future…
VOX POP 12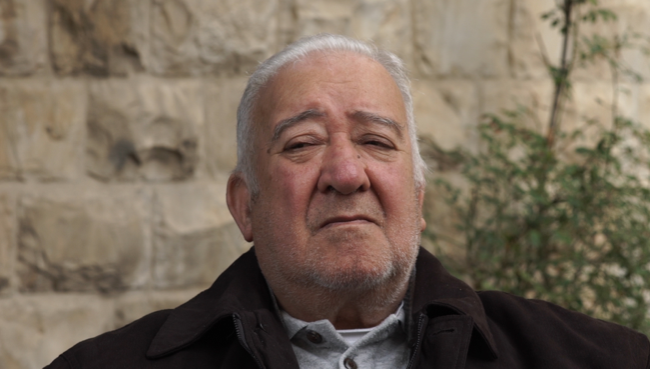 Back in Jerusalem, the weather finally broke although it was still cold and we'd just walked up the Via Dolorosa and were now at the covered centre of the Old City when we encountered this gentleman who took us into a churchyard day centre to speak to us. As an elder Israeli Palestinian he feels he is well looked after.
VOX POP 13
We were in Jerusalem near the Church of the Holy Sepulchre when we saw this young University student having a break with her friends. We persuaded her to talk to us about her experience as a Palestinian student in Israel.

VOX POP 14: SARA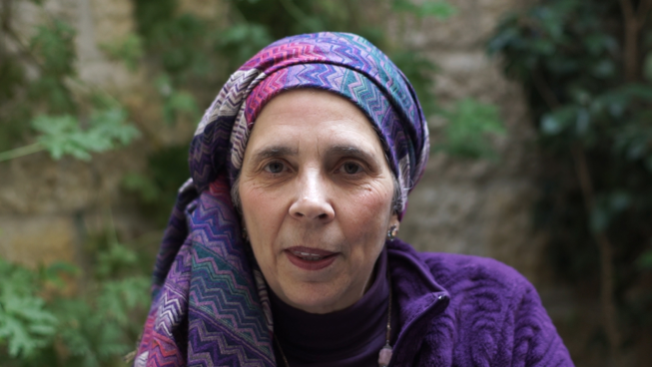 We then headed into the Jewish Quarter of the Old City. Here we met an Orthodox Jew who'd first come to Israel from the States over 30 years ago. She prays every day and feels that the Bible provides positive answers about the situation as faith dominates her perspective.

VOX POP 15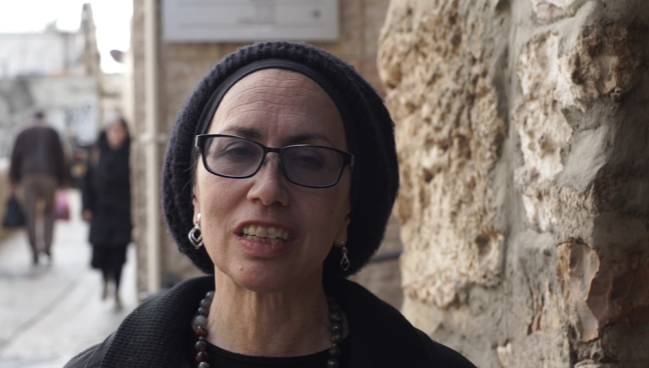 Next we managed to stop a Canadian orthodox Jew now living in Jerusalem who was very excited to become an accredited docent/tour guide in the Old City. Like Sara, she is thrilled and grateful to live in the ancient homeland of the Jews.

VOX POP 16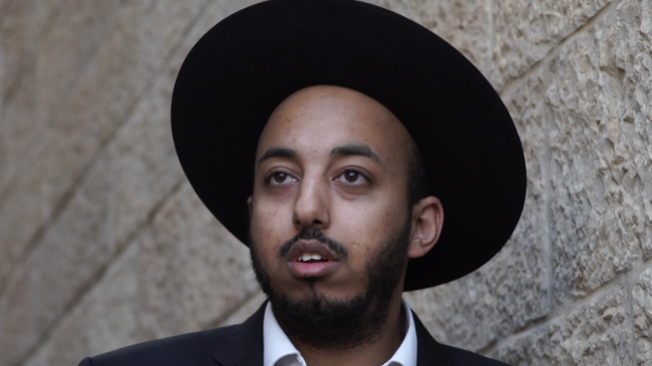 We were about to head home when we bumped into this Orthodox Ethiopian Jew who agreed to talk to us. He's lived in Israel for almost all of his life and can't imagine any other home. His parents had a slightly harder time than him but overall he feels that Israel is a good home for them.

VOX POP 17: MARIEL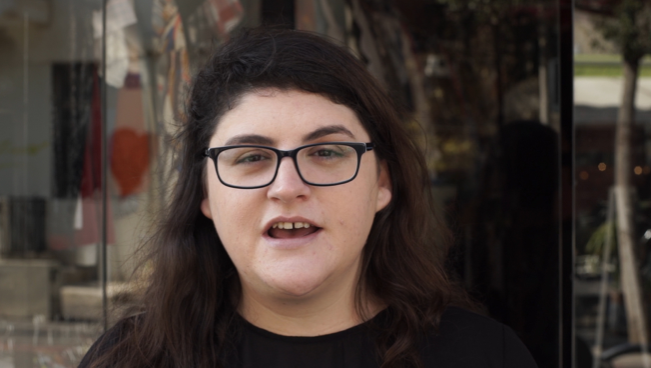 We went back to Tel Aviv for our last morning of filming before heading to the airport. Mariel grew up on a kibbutz and worries about living in a safe liberal bubble while surrounded by occupation. Like Adi, she is a fellow filmmaker and spends a lot of time observing circumstances around her. She has more faith in the power of normal people to make change than she does in the government.

VOX POP 18: AZMIT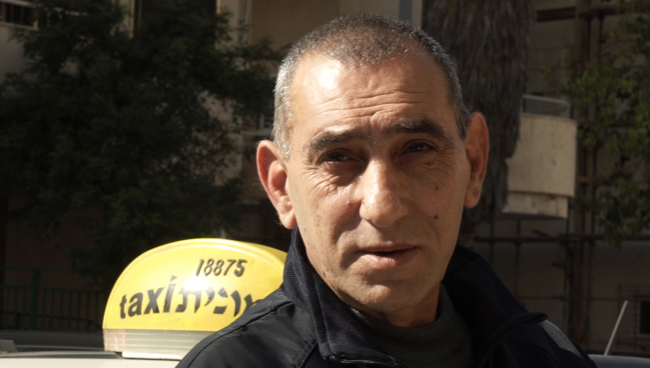 On our first day we got into a cab in Tel Aviv to go to the bus station to catch a sheroot to Kalandiya checkpoint. It was pouring rain and Azmit ended up taking us to the checkpoint in his taxi. He was such a philosopher that we wanted to vox pop him but couldn't find anywhere at all we could stop, so on our final morning he met us and we filmed him just before we left for the airport. He feels he's seen it all and that the story of IsraelPalestine is an ancient one that doesn't change much.

SHOOT 2
VOX POP 19 & 20: YAEL & DOR
In our first shoot we mainly stopped people randomly on the street however once we'd looked through what we had there were a handful of viewpoints missing so we did 4 more vox pops. First we headed to kibbutzim to talk to two people who'd lived near the Gaza border and experienced the effects of incendiary devices coming from within Gaza. Yael and Dor are polar opposites on the subject, Dor blaming Hamas and Yael, feeling sorry for Gazans and pointing at Israeli and Palestinian politicians as the ones who need to do better.
VOX POP 21: MRS. MANSOUR
As we'd been filming with a Jewish settler, we wanted to speak to someone from Hamas. Mrs. Mansour trained as a physics teacher and was elected to the government assembly in Nablus as a political member of the party, although she has not yet taken her seat. She told us about how she sees peace being achievable. Mrs. Mansour's husband Jamal was killed by the IDF forces, and I happened to be reading 'Rise and Kill First', Ronen Bergman's book on Israeli extrajudicial killings. He cites the murders as being considered a mistake, occurring just a few weeks after Jamal Mansour had publicly announced that Hamas should renounce violence and give peace a chance.

VOX POP 22: BAHA
On our way back from Hebron, we stopped just South of Bethlehem to talk to Baha about life in the West Bank. It wasn't the easiest place to find but once we'd arrived at the café he works out of, we didn't want to leave! Baha runs holidays for Westerners where they can come and pick olives with Palestinians, while getting to know more about the Palestinian perspective on the conflict.